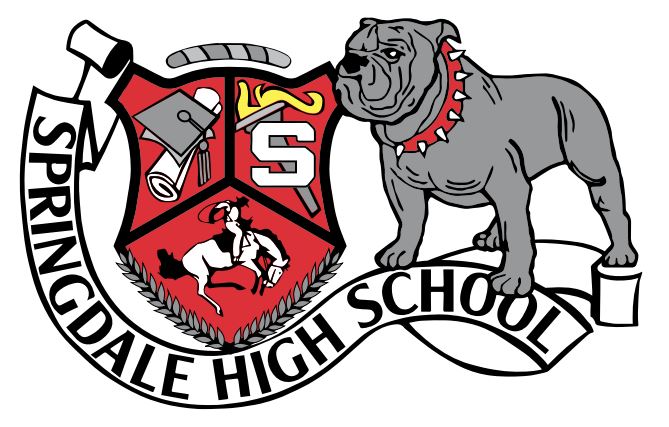 About Springdale High School
Springdale High School serves nearly 2,100 students in a 10th - 12th grade setting from a variety of cultural backgrounds. Two hundred and seventeen staff members serve the students of SHS. This team consists of 5 administrators, 172 teachers, and 40 non-instructional staff members.
Our school operates on a traditional seven-period day and course credits are awarded at the end of each semester. We offer a full range of academic programs from self-contained classrooms, advance placement (AP) courses, an International Baccalaureate (IB) program, and seven career academy programs. Students have the opportunity to participate in numerous extracurricular service programs, opportunities in fine arts, interscholastic athletics, and academic competitions. Springdale High School, the performing arts center, Bulldog Stadium, and the other auxiliary buildings are located on a 31-acre campus near downtown Springdale.
Springdale High School has one overarching mission that can be summed up in three words, "Teach Them All." Dr. Jared Cleveland has been the superintendent of the Springdale School District since 2020 and under his leadership, the faculty and staff at SHS have continued to embrace this challenge and transform its approaches to meet the educational needs of an increasingly diverse student population.

We are committed to ensuring that our curriculum is accessible and comprehensible to all learners and that proper differentiation and scaffolding measures are in place for our English Language Learners (ELLs). The educational professionals at SHS strive to provide students with opportunities to excel in the areas of academics, fine arts, athletics, and other extra-curricular activities. In our school, we have established a culture of excellence, a culture of vision and innovation, and a culture of inclusion.
School Values and Collective Commitments
Educators at SHS base their efforts on four values: student achievement, safety, diversity, and partnerships. Student achievement is the top priority of our school. Students have many opportunities to earn industry-recognized certifications in any of the seven career-focused academies offered in the academic program at Springdale High School.

Student safety is a benchmark of our school and district. This commitment can be seen in the district's collaborative school resource officer program in conjunction with the Springdale Police Department.

Our school also fosters meaningful partnerships with community patrons to accomplish its mission and vision. In addition to collaborative efforts with the city of Springdale and the police department, SHS also fosters numerous partnerships with members of the business community that support our numerous Career and Technical Education programs.

We are committed to preparing our students to live and work in a complex global economy and to prepare our graduates to assume responsible roles in our local community and the larger world community. Partnerships with parents, guardians, and community partners help us meet the needs of our students so that they can be successful.
Springdale High School in the Press
Mid-1800s
The history of education in Springdale begins when pioneer Jo Holcomb brings J.C. Floyd into his home to teach a group of children (taken from "Springdale," by Velda Brotherton)
1868
The town rebuilds the Shiloh church after the Civil War which served as church and school
1873
Springdale Baptist Missionary College started for grammar students through 1st-year high school 2-story brick building constructed on-site of current Historic Springdale High School (40 pupils paid $2.50 / month tuition)
1884
Springdale District officially organized
1885
Building sold to Lutherans who used the upstairs for church and downstairs for school
1892
Springdale District rents lower rooms of school/church building for classrooms
1895
School building purchased for $2,500.00 by Springdale College Co. for a private high school
1898
Josiah H. Shinn acquired The Building and reorganized the curriculum
1901
Millard Berry acquired the school building through foreclosure with this stipulation: if ever the land ceased to be used for school purposes, the land reverts to Berry Hiers and the first Springdale High School was formed
1902
First graduating class - 9 members
1910
Old structure was torn down and the current brick building was built 1922 and the 1st yearbook "The Milestone" was published
1929
New 3 story Jr./Sr. High built near current SHS site (demolished in 1998)
Mid-1930s
Springdale school district has more than 1,000 students
1947 - 1949
State law passed requiring all schools to be part of a district with a high school and 22 schools joined the Springdale school system including Steele, Spring Creek, Silent Grove, Tontitown, Brush Creek, Harmon, Zion, Accident, Hickory Creek, Sawyer, Fish Back, Sonora, Habberton, Oak Grove, Shady Grove, Bethel, Monitor, White Oak, Mt. Home
1961
Major expansion of Springdale High School site, costing almost $900,000